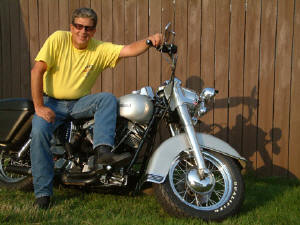 1972 FLH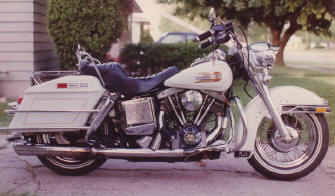 1976 Harley Davidson Electra Glide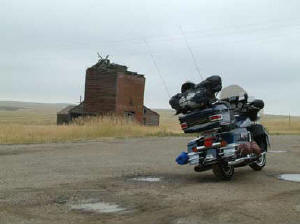 On the road to Sturgis
I have been riding Harley-Davidson Motorcycles over 45 years; most of my life. I did have a few mini-bikes and dirt bikes, but I wanted the open road and I found it. Damn it's been fun and just the greatest time.

I own a 1972 FLH, a 1976 FLH, and a 1999 FLHTCUI, and a 1948 Cushman Series 50 step thru.

As early as 1984 I wanted to start a motorcycle events Magazine to share with the West Michigan area, but never had the financial ability to do so. One morning I woke up with the idea of building a web site that would list events in our area, with a lot of work and a few sleepless nights, Westmichiganbiker.com was born; That was 2002.
This is what I give back to you my Brothers and Sisters; Thanks for the lifestyle that I enjoy so much, and has given so much to me. The Good, the Bad, and all of the rest. I would never trade it. What a Great Ride.
I also have been writing articles, and a monthly column in Thunder Press Magazine since around 2000.
My article is titled "Mile Marker" which is a gossip column of what is going on in Michigan, Ohio, Indiana, Illinois, Wisconsin, Minnesota, and Iowa. God knows why they keep me, I am such a hacker.

Thanks for visiting my site.

Fred Nabkey "BooM BooM"
Back to the HOME PAGE